CargoPost Provides Secure Truck Bed Storage For Your Cargo
Ever try to secure a container, cylinder or package in your pickup truck bed using the standard hooks or anchors provided by the manufacturer? Never a consistent or easy process!
CargoPost solves this problem by providing a light-duty and secure fixture to attach your valuable cargo to in order to prevent damage to your cargo or truck bed. CargoPost also allows you to secure cargo without getting into your pickup box.
With simple installation, CargoPost fastens to ANY of the stock cargo hooks or anchors in the corners of your pickup truck bed with just one bolt! Install a CargoPost in all 4 corners of your truck bed without losing ANY of your flat storage space between the wheel wells!
While CargoPost can be installed in light, medium and heavy-duty pickups for ALL makes and models of pickup trucks, Easy Installation can be used on.
Chevrolet and GMC – 2007 to current model year

Light Duty, 1/2 ton and 3/4 ton pickup trucks

Dodge – 2009 to current model year

Light Duty,1/2 ton and 3/4 ton pickup trucks
The factory pre-installed cargo hooks/U-bolts for the model years listed below make installation of CargoPost quick and easy … in as little as 5 minutes! See install instructions provided.
Manual installation required before CargoPost can be installed on: (See Page 10 of Instruction Manual)
Chevrolet and GMC – prior to 2007 model year
Dodge – prior to 2009 model year
Ford, Toyota and Nissan – all model years
CargoPost comes with complete hardware and instructions to make it easy to manually install in pickup trucks without the pre-installed cargo hooks/U-bolts.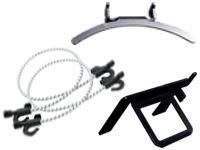 Included Accessories
CargoPost can also be mounted in other vehicles such as all years of other brands of pickup trucks with the use of the special fasteners and accessories provided.
See CargoPost Accessories here.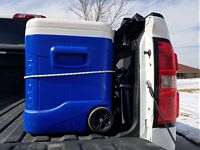 Easy Mounting
CargoPost comes with multiple mounting options for endless applications almost anywhere in the truck bed on the sidewalls.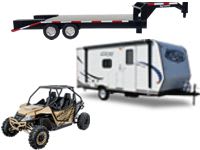 Other Uses
Other uses include but are not limited to: Flatbed trailers, Enclosed Trailers, RV's, UTV's - the options are endless!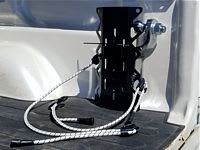 Hardware
Standard hardware and fasteners are included with the basic CargoPost kit.
All components are constructed with1/8-inch steel construction for strength and durability.
Simple Installation
Kit Includes: (1) CP X-BAR, (1) CP FACE PLATE, (1) CP TAB, (1) CP RADIUS BAR, (1) UBAR, (2) MONKEY FINGER BUNGEE CORDS
All hardware and fasteners for easy complete installation on all brands of pickup trucks come with the basic CargoPost kit. Extra fasteners may be required depending on your application, such as on a metal or flatbed trailer.
CargoPost Installation Instructions
Order YOUR CargoPost NOW and protect BOTH your cargo and truck bed with the NEWEST truck bed organizer and storage solution.